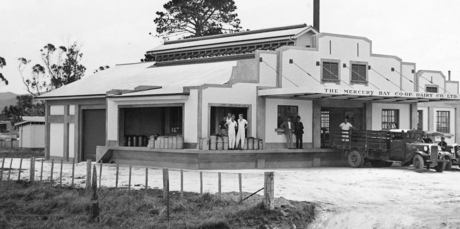 The original dairy factory at Mercury Bay is now the Mercury Bay Museum in Whitianga
Many of our historic dairy factories, which existed in most small towns across New Zealand, have been given a new purpose in life, writes Diana Clement of the New Zealand Herald.

There's history in them there walls. Small dairy factories adorned almost every hamlet in New Zealand in days gone by. Some have fallen into dereliction and others have succumbed to the bulldozer. A handful of these solidly built, lovely heritage buildings are rising from the dead and house tourist attractions and all manner of businesses and shops.
… (more) …
"The Mercury Bay dairy factory is an absolute treasure trove of dairy industry history and artefacts … particularly for industrial archaeology nuts like me," says Peter Mellalieu, Unitec associate professor and dairy factory enthusiast, who drew my attention to this museum.
Mellalieu did a PhD on dairy company mergers and now the professor of innovation and enterprise creativity believes we can learn much from history.
"I am constantly surprised at the different stories that each building reveals, despite a first glance that suggests yet another copy of a factory further down the road."
From the editor
"When Diana Clement suggested this week's feature story to me, I admit I was sceptical. Old dairy factories? Who could possibly want to spend a weekend trailing around New Zealand's industrial past? Fortunately, Diana is very persuasive - and has now turned me into an enthusiast for these buildings. Even more fortunately, we were delighted at the help we received from self-confessed dairy factory geeks who have rescued and repurposed these lovely pieces of architecture into living, breathing visitor attractions and dug into their histories, collected photos and more. Which is just as well, as we discovered Fonterra doesn't have any interest in the stories of these slices of the past dotting the countryside." Catherine Smith, Life Editor